Affordable Counseling
Prices Range from $75-$180
You choose the counseling and experience level that fits your needs.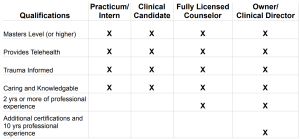 Practicum/Internship student fee is $75/50 min session.
Clinician Candidate fee is $120/50 min session.
Fully Licensed Clinician fee is $160/50 min session.
Owner/Clinical Director fee is $180/50 min session.
We accept cash, check, and credit card payments.
Can I Use My Insurance to Pay for Therapy?
Yes. We offer:
Aetna Therapists in Denver
Tricare Therapists in Denver
United Therapists in Denver
Colorado Access Medicaid Therapists in Denver
CCHA (Colorado Community Health Alliance) Medicaid Therapists in Denver
RMHP (Rocky Mountain Health Plans) Medicaid Therapists in Denver
Therapists that Accept Medicaid in Denver
Our fully licensed clinicians currently are in-network for Medicaid (Co Access, CCHA, and RMHP), Tricare, United, and Aetna. If you have a different insurance we can provide you with a Superbill in which you submit to your insurance company to obtain any out-of-network benefits that you may have. It is important that you verify your insurance eligibility and benefits prior to your first appointment so you know what to expect in terms of payment.
Can I Have a Free Consultation?
Our free 15 minute phone consultation is with an office assistant that is trained and knows each clinician so they can be sure to properly place you with the appropriate clinician for your needs.
Can I use My Health Savings Account (HSA) or FLEX spending account to pay for Therapy?
You absolutely can use your HSA or FLEX spending accounts. An HSA is a special tax-free account that can be used to pay for medical or health services. Usually you will have a debit card linked that this account, and we will gladly accept an HSA card. You are able to use whichever card you would like with our credit card payment system.
What is Ivy Pay and why do I need to use it?
Ivy pay is our credit card processing company and we have chosen to use this system because it is 100% HIPPA compliant, designed for mental health practices, and lets you control what credit card you want to use without us needing to have access to any pertinent card information. When you receive your appointment you will also receive a text message that will allow you to set up your own profile with the system. We require a current credit card to be on the system but you are able to pay with cash or check after the initial consultation. If you have any questions please let us know.
Health care providers are required to provide a Good Faith Estimate (GFE) of expected charges to uninsured and self-pay individuals upon request or at the time of scheduling services.  The GFE must be provided within 3 business days upon request by the individual; within 1 day of the scheduled service if the service is to be provided within 3 business days; or within 3 business days of the scheduled service if the service is to be provided within 10 business days.
Cost of Therapy in Denver, CO
Original Path Counseling accepts insurance from Tricare, Colorado Access, CCHA, RMHP, United, Aetna, and Medicaid in the Denver Metro Area. We also serve Centennial, Castle Rock, Parker, Highlands Ranch, Lone Tree, Greenwood Village, Aurora, Englewood, and the surrounding Denver communities.