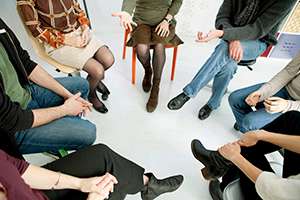 Adult DBT Group Therapy 
Mondays from 10:30am-12pm. We are currently accepting names for the waitlist and beginning consults for the upcoming Spring group. 12 week program, 90min per week, $70/week.
Teen DBT Group Therapy 
Wednesdays from 5:30-7pm. Our next round of Teen DBT starts in the late Spring/ early Summer and we are currently accepting a waitlist for those interested. 12 week program, 90min per week, $70/week.
DBT (Dialectical Behavior Therapy) is taught in a small group format over 12 weeks. This can be beneficial for a variety of challenges that you may be facing; such as depression, anxiety, self-harming, and poor emotional regulation. Over 12 weeks you will learn specific skills that help with Mindfulness, Distress Tolerance, Emotional Regulation, and Interpersonal Effectiveness. If you feel like this may be a beneficial group to participate in, please set up a consultation with one of our counselors to be sure that you or your adolescent would be a good fit.
Understanding Group Behavioral Therapy
If you're considering psychotherapy, several options are available. One of those options is group therapy. Depending on the nature of your problem, group therapy can be an ideal choice for addressing your concerns and making positive changes in your life.
What Should I Expect from Group Therapy in Denver?
Group therapy involves one or more mental health professionals who lead a group of roughly five to 15 patients. Typically, groups meet for an hour or two each week. Some people attend individual therapy in addition to groups, while others participate in groups only.
Many groups are designed to target a specific problem, such as depression, obesity, panic disorder, social anxiety, chronic pain or substance abuse. Other groups focus more generally on improving social skills, helping people deal with a range of issues such as anger, shyness, loneliness and low self-esteem. Groups often help those who have experienced loss, whether it be a spouse, a child or someone who died by suicide.
Benefits Of Group Therapy for Anxiety, Depression, Stress, and More
Joining a group of strangers may sound intimidating at first, but group therapy provides benefits that individual therapy may not. Psychologists say, in fact, that group members are almost always surprised by how rewarding the group experience can be.
Groups can act as a support network and a sounding board. Other members of the group often help you come up with specific ideas for improving a difficult situation or life challenge, and hold you accountable along the way.
Regularly talking and listening to others also helps you put your own problems in perspective. Many people experience mental health difficulties, but few speak openly about them to people they don't know well. Oftentimes, you may feel like you are the only one struggling — but you're not. It can be a relief to hear others discuss what they're going through, and realize you're not alone.
Diversity is another important benefit of group therapy. People have different personalities and backgrounds, and they look at situations in different ways. By seeing how other people tackle problems and make positive changes, you can discover a whole range of strategies for facing your own concerns.
While group members are a valuable source of support, formal group therapy sessions offer benefits beyond informal self-help and support groups. Group therapy sessions are led by one or more psychologists with specialized training, who teach group members proven strategies for managing specific problems. If you're involved in an anger-management group, for instance, your psychologist will describe scientifically tested strategies for controlling anger. That expert guidance can help you make the most of your group therapy experience.
Joining A DBT Mental Health Support Group in Denver
We offer adult and teen DBT groups that run in Spring and in Fall.
Are Groups Opened Or Closed?
Open groups are those in which new members can join at any time. Closed groups are those in which all members begin the group at the same time. They may all take part in a 12-week session together, for instance. There are pros and cons of each type. When joining an open group, there may be an adjustment period while getting to know the other group attendees. However, if you want to join a closed group, you may have to wait for several months until a suitable group is available. Our DBT groups are run as closed groups.
How Many People Are In The Group?
Small groups may offer more time to focus on each individual we choose to have anywhere from 4-8 group members when running any of our groups.
How Alike Are The Group Members?
Groups usually work best when members experience similar difficulties and function at similar levels. Each group member undergoes an initial consult to be sure that they will be a good fit for that particular group.
Is DBT Group Therapy Enough?
Many people find it's helpful to participate in both group therapy and individual psychotherapy. Participating in both types of psychotherapy can boost your chances of making valuable, lasting changes. If you've been involved in individual psychotherapy and your progress has stalled, joining a group may jump-start your personal growth.
Confidentiality is an important part of the ground rules for group therapy. However, there's no absolute guarantee of privacy when sharing with others, so use common sense when divulging personal information. That said, remember that you're not the only one sharing your personal story. Groups work best where there is open and honest communication between members.
Group members will start out as strangers, but in a short amount of time, you'll most likely view them as a valuable and trusted source of support.
Information provided by: American Psychological Association
DBT Group Therapy in Denver, CO
Original Path Counseling offers DBT group therapy for anxiety, depression, anger management, stress, and more in the Denver Metro Area; including Centennial, Castle Rock, Parker, Highlands Ranch, Lone Tree, Greenwood Village, Aurora, Englewood, and the surrounding Denver communities.